Smokey California-style Chicken Chili
This easy healthy chili recipe is vibrant with citrus and smokey undertones–perfect for those looking for a feel-good hearty dish for every season.  With a mild kick and big fresh flavor, all will enjoy.
---
SMOKEY CALIFORNIA-STYLE CHICKEN CHILI
– 2 Tbs. olive oil
– 1 lb. lean ground chicken
– 2 bell peppers, preferably mixed color, diced small
– ½ sweet onion, diced small
– 1 tsp. plus a dash chili powder
– ½ tsp. plus a dash smoked paprika
– ¼ tsp. plus a dash of cumin powder
– ½ tsp. chipotle peppers in adobo sauce, minced
– 1 26-oz. box strained tomatoes such as Pomi brand*
– 1 15-oz. can fire-roasted diced tomatoes
– ½ medium lime, juiced
– 7 oz. (1/2 can) kidney beans, rinsed and drained
– 7 oz. (1/2 can) black beans, rinsed and drained
– 8 oz. frozen corn
– 10 cilantro stems, leaves only, chopped
– 1 avocado, pitted and diced
– Kosher salt
 Suggested toppings: Chopped scallions, chopped cilantro, grated cheddar cheese, sour cream (or plain Greek yogurt for a healthier alternative.)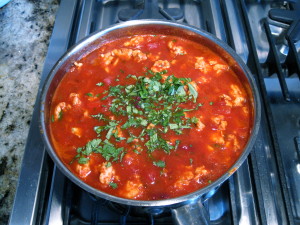 Heat 1 tbs. of oil in a large pot over medium-high heat. Cook the chicken while breaking it apart with a wooden spoon until there are no visible pink spots, about 4 minutes. While chicken is cooking, add a dash of chili powder, paprika, cumin, and salt. Transfer chicken to a plate.
 Lower heat to low and add 1 Tbs. of oil. Sauté the peppers and onions, stirring until onions are translucent, about 4 minutes, and add the chili powder, paprika and cumin.
 Add the chipotles until combined, then the strained and diced tomatoes, lime juice, beans, corn and cilantro. Fill the empty diced tomato can with water and pour it to the mix. Give one last good stir, and simmer while covered for at least an hour.
 Serve with spritz of lime, avocado, and any other suggested toppings. Enjoy! 
* Strained tomatoes have a similar consistency as tomato sauce. I prefer strained because most canned sauces are primarily made with tomato paste. Strained, like Pomi's, is made purely of tomatoes just with the skin and seeds removed. You can use tomato sauce in a pinch, though it won't taste as fresh.