You'll be hooked with one bite, I promise ya.
Infused with citrus and ginger, this slaw is tangy and bright. I swapped the granulated sugar that's usually included in coleslaw for naturally sweet ingredients like string beans and bell pepper. The result is exactly the zing you want between two crusty pieces of bread.
And the meatballs? Though lean and healthy, they are nearly fall-apart tender–a perfect texture contrast to the crunchy slaw. Slather some spicy peanut spread and you got yourself a mighty, kick-in-the-mouth Asian meatball SLAWB ™.


---
NOTE: The slaw and meatballs can totally be enjoyed on their own as separate entities!
Asian Slaw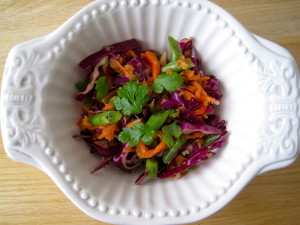 Serves 4-6
– 2 tsp. fresh minced ginger (from about 1″x 1″ piece)
– 2 Tbs. rice vinegar
– 2 Tbs. soy sauce
– 2 Tbs. fresh lime juice (from 1 lime)
– 2 Tbs. fresh orange juice (1/2 orange is more than enough)
– 1 Tbs. sesame oil
– freshly ground black pepper
– 1/2 small red cabbage (about 1 lb.), sliced thin
– 4 medium carrots, shredded (about 5 oz.)
– 6 oz. string beans, cut on a sharp diagonal into bite-size pieces
– 1 medium red bell pepper, sliced thin
– 3 scallions, sliced thin
– 1/4 cup cilantro leaves, chopped
Combine the ginger with all the liquid ingredients. Season with pepper to taste. In a medium bowl with the cabbage, carrots, beans, pepper, scallions, and cilantro stir in the wet mixture. Let sit for about an hour so all the flavors can meet and greet, transfer to serving dish and enjoy!
Asian Meatballs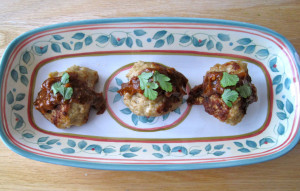 Makes 10 meatballs
– 1 large egg
– 1 tsp. soy sauce
– 2 tsp. hoisin sauce
– 1 Tbs. peanut butter (all natural, like Smuckers or Teddie brand)
– few grounds of fresh pepper
– 1 large garlic clove, minced
– 2 tsp. minced ginger (from about 1″x 1″ piece)
– 1 lb. lean ground chicken
– 2 Tbs. olive oil
Gently whisk all the ingredients but the chicken in a medium bowl. Add the chicken and gently combine the liquid mixture by folding it into the meat. TIP: The less you work with the meat, the more tender the meatballs will be! This is generally true when forming all meatballs and burgers.
Form 2″ wide meatballs with your hands until you have 10. Set in fridge for just a few minutes to firm while setting up your steamer pots. Steam them for 10 minutes.
Heat oil in a large skillet over medium-high heat. Sear sides of the meatballs to give a crisp caramelized outer layer, then set aside.
Spicy Peanut Spread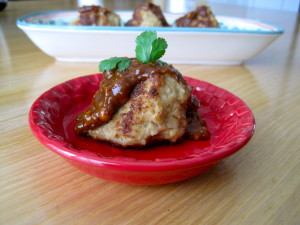 For 5 sandwiches
– 2 Tbs. peanut butter  (all natural, like Smuckers or Teddie brand)
– 2 tsp. hoisin sauce
– 2 tsp. sweet chili sauce
– 1 Tbs. soy sauce
– 2 tsp. sesame oil
– dash red pepper flakes
Mix all ingredients together until emulsified.
NOTE: Though you use small amounts of some ingredients in this SLAWB ™, there are many other great uses for those ingredients, like this. So you'll go through a bottle in no time!
Assembly
Per one sandwich, cut 6″ of a fresh baguette and slice in half lengthwise. Remove the fluffy part of the baguette so that you're left with just the crusty shells. Slather the sauce on one half, or two if you're daring.
Scoop a hefty amount of slaw, then lay out two meatballs. Top with bread. Finally, take a big ol' bite!