Stuffed Pork Tenderloin with Peach, Asparagus, and Feta Cheese
I used to assume that making stuffed pork tenderloin was difficult because–well, it looks pretty fancy. Anything stuffed, besides potato skins, gives a whiff of snooty. But it also makes everything twice as delicious (I guess that's reason enough to be a little pretentious), especially when the stuffing is just as good as its host. And when I say host, I mean the pork, not yours-truly!)
And in this case, the stuffed pork tenderloin is not only finger-lickin' good, it's actually easy. Really!– it only requires a few simple steps and with less than a handful of ingredients, the filling is naturally sweet and delicious.
What makes this pork stand out is the simple but tasty sauce you brush on the pork before throwing it in the oven. Red wine and honey add sweetness while the spices, all easy from your cabinet, give depth of flavor.
What you get is a tender and juicy pork that balances the sweet and savory line with grace, and a slight air of pretentiousness of course. Perfect for the next time the in-laws pay a visit, am I right?!
---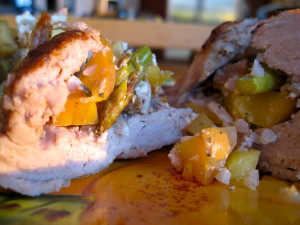 Stuffed Pork Tenderloin
with Peach, Asparagus, and Feta Cheese
Serves 4
– 10 stalks asparagus, cut into small bite-size pieces
– 1 medium peach, pitted and cut into small bite-size pieces
– 1/2 medium red onion, diced small
– 1/2 cup crumbled feta cheese (2 oz.)
– 1 Tbs. minced fresh thyme
– 1 Tbs. apple cider vinegar
– 2 Tbs. olive oil
– 2 pork tenderloins, butterflied (about 1 lb. each)
– 1 Tbs. extra-virgin olive oil
– 1 Tbs. honey
– 1 Tbs. dry red wine
– 1/4 tsp. ground garlic
– 1/2 tsp. ground thyme
– Kosher salt and freshly ground black pepper
* You'll need toothpicks or cooking twine for this recipe
In a medium bowl, combine the asparagus, peach, onion, cheese, fresh thyme and the vinegar to make the filling.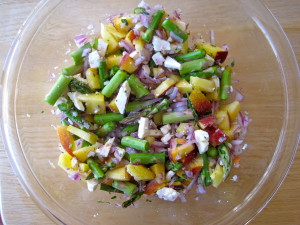 Heat the oven to 400 degrees. On a baking sheet covered with aluminum foil, place the two tenderloins next to one another and scoop half of the filling along the center of each. Like you would with a tortilla wrap, fold one end of the pork then the two sides to create a pocket so the stuffing can't fall out and clasp it with a toothpick. Work along the pork, clasping the two sides of the pork around the stuffing. Close up the other end and do the same on the other tenderloin.
In  large skillet, heat the 2 Tbs. of olive oil over high heat. Sear both sides of the tenderloin, taking care to avoid leaking stuffing, until brown, about 3 minutes on each side.
While the meat is searing, make the sauce. In a small bowl, stir to combine the extra-virgin olive oil, honey, wine, garlic, ground thyme, and 1/4 tsp. of salt and a few cracks of pepper.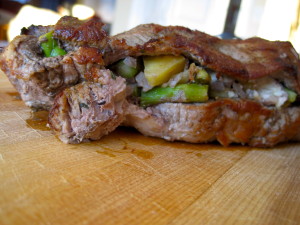 Transfer back to the baking sheet and brush the sauce evenly over the tenderloins. Stick in the oven for 30-40 minutes, or until the pork's temperature reaches 145 degrees. Don't forget to remove the toothpicks/twine before enjoy!