Toasted Coconut & Ginger Butternut Squash Soup
This soup is misleading–in the John Mayer sort of way. He must be the most romantic and loyal guy with all of those sweet lyrics, right? This soup's lyrics is its lusciously rich texture. It has to be loaded with cream and high in fat. Wrong, on both accounts!
This soup is actually dairy-free and nutritious. Slowly cooking the butternut squash in simmering broth yields a naturally creaminess, while the coconut milk, full of minerals and vitamins, gives it that silky smooth texture. Top it with toasted coconut and your bowl is a wonderland.
---
Toasted Coconut & Ginger
Butternut Squash Soup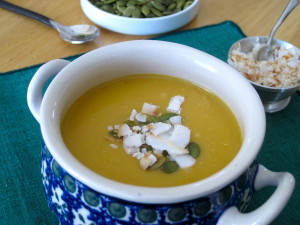 Serves 4-6
2 Tbs. coconut oil
5 cups 1″ sized pieces butternut squash, from about 2 lb. squash.
2 medium carrots, chopped
1 small yellow onion, diced
1 tsp. curry powder
1 qt. chicken broth
1/4 cup full-fat coconut milk
Toasted unsweetened coconut, for garnish
Optional: Toasted pepitas (pumpkin seeds)
Heat the oil in a large pot over medium heat and sautée the vegetables until slightly softened and brightened in color, about 3 minutes. Add the curry and give it another few stirs.
Pour in the broth and bring to a boil. Cover and simmer for about an hour, or until the squash and carrots are very soft. Blend together with an immersion blender directly in the pot, or transfer to a blender in batches and return to pot.
Stir in the coconut milk. Serve and top with coconut and pepitas. Enjoy!